Disclosure: CPAexam.com has an affiliate/advertising relationship with the CPA Review course on this page.
Wiley CPAExcel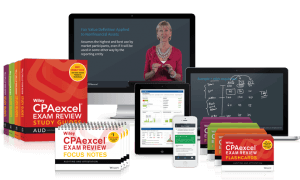 Product Highlights
Partner Until You Pass Guarantee with free online content & courseware updates until you pass

Online Course Study Materials with text, 130+ hours video instruction, 8,000 multiple-choice questions, 300+ task-based simulations, 40+ written communications, 4,000+ digital flashcards and more

Efficient Learning Platform with Bite-Sized Lessons, exam planner, discussions, unlimited practice exams and more

Study Guides map perfectly to the lessons in the courseware (print and ebook included)

Companion Mobile App

Professor Mentoring with online support from subject-expert professors

Virtual Classroom Series with live, online instruction and support

Online Test Bank with additional 4,200+ multiple choice questions and 200 task-based simulations

Focus Notes with acronyms and mnemonics (print and ebook included)

Flash Cards to reinforce and improve retention (print)
Course Details: https://www.efficientlearning.com/cpa/products/platinum-cpa-review-course/
Product Details
Online Course Study Materials

Authored by a team of leading accounting professors, Wiley CPAexcel's online course study materials provide everything you need to pass the CPA Exam.

Efficient Learning System with Bite-Sized Lessons

Built around a 30-minute "bite-sized" content framework, Wiley CPAexcel's lessons contain text and video instruction, as well as mini assessments flash cards. Progress and outcomes are constantly tracked and regularly reported back to you for self-assessment, building the confidence and motivation critical to your success.

Unlike other courses that require long, unbroken blocks of study time to cover each lesson, Wiley CPAexcel enables you to master an entire lesson in about 30 minutes. That's a realistic approach for your real-world schedule.

Study Guides

The four-volume set reviews all four parts of the CPA Exam. Print and eBook versions are identical, map perfectly to the courseware, and feature Wiley CPAexcel's popular Bite-Sized Lessons.

Mobile App

The powerful companion mobile app includes video lectures, practice questions with complete explanations and digital flashcards. Practice sessions and metrics sync with the full online course across all devices. Study on the go, online or offline.

Professor Mentoring

Get the support and answers you need from experienced, subject-expert professors. With Professor Mentoring, you can post your CPA Exam related questions and get a response within 48 hours or less. Need an immediate response? Access the archived discussions to find what you are looking for.

Virtual Classroom Series

A blend of pre-recorded lectures and live online classes led by instructors who discuss the most frequently missed questions in the course. You'll have the opportunity to ask questions of live instructors and access archived lectures.

Online Test Bank

Boost your review with the ultimate online practice tool. Get access to an additional 4,200+ practice questions and 200+ simulations.

Focus Notes

Reinforce key concepts for every section of the CPA Exam with these easy-to-read and carry spiral-bound supplements. Learn acronyms and mnemonic devices to help you remember accounting rules, checklists and more.

Flash Cards

Use Flash Cards to reinforce and improve knowledge retention in all four sections. Order the complete 4-parts (1,000 cards) or individual sections (250 cards/section).
Course Details:
https://www.efficientlearning.com/cpa/products/platinum-cpa-review-course/
Note: The above product information and videos were taken directly from Wiley Efficient Learning. CPAExam.com cannot be held responsible for inaccuracies in this content. To ensure accuracy, visit the Wiley Efficient Learning website directly for the most current information.