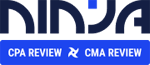 NINJA CPA Review is a subscription-based CPA Review course.
NINJA CPA is based on the N.I.N.J.A. method of studying for the CPA Exam:
---
Nail the Concepts
Intense Notes
Non-Stop MCQ
Just Re-Write Your Notes
All Comes Together
---
NINJA CPA Review Monthly includes a textbook, study notes, audio course, cram course, test bank, simulations, and live tutoring.
At $67 a month, NINJA is the cheapest CPA Review course.
NINJA does not require a minimum membership stay and includes a 30-day refund guarantee.
NINJA CPA Review was rated as a top-5 CPA Review course by Investopedia and named "Best Price."
Read more about CPA Review Courses at our sister site, Another71.com.
2022 CPA Review Courses
Disclosure: CPAexam.com has affiliate/advertising partnerships with the CPA Review courses on this page.

On mobile? This page is best viewed sideways in landscape view.