How Do I Become A CPA?
Every CPA is an accountant but not every accountant is a CPA. You're here because you're ready to go further. We can help. Let us guide you towards landing an influential job in virtually any industry. Who does the FBI recruit to investigate criminal fraud? What profession is often a stepping-stone to top-echelon positions like CFO and CEO? Who helps Hollywood moguls and actors manage their money? CPAs are highly-regarded professionals and they're more in demand than ever before – and that doesn't seem to be changing any time soon. From the smallest start-up to the largest government agency, every business or organization needs your skills as a CPA.
Where Do I Begin?
Becoming a CPA is a challenge. Finding out how to become one shouldn't be. That's why we want to make this process stress-free by answering all of your questions in one place. First, the big picture: each U.S. state and territory has its own CPA Exam requirements. Many jurisdictions are similar in their requirements, but because the Certified Public Accountant licensure is regulated by individual state boards of accountancy, the requirements can and do differ between jurisdictions. The good news is that because of the CPA license's mobility, almost all jurisdictions allow you to practice in another state without being directly licensed in that state.
The 150-Hour Rule
All state boards of accountancy – with the exception of the U.S. Virgin Islands – require a minimum of 150 hours of post-secondary education from a regionally accredited institution. This rule ensures that all CPA exam candidates have a total of 150 semester hours of education under their belts before they sit for the exam. Most bachelor degrees typically only give students 120-semester hours-meaning they have to obtain an extra 30 semester hours to meet the requirement.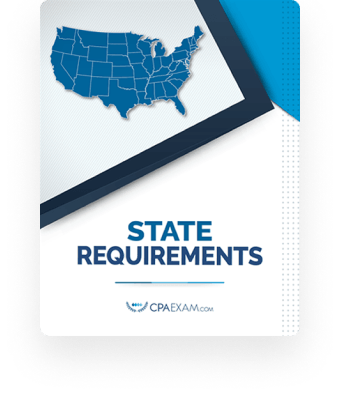 State Requirements eBook

What's Inside?
List of CPA Exam Requirements for each U.S. State and Territory
Details on educational requirements for CPA License, including required number of semester hours for various subject areas (e.g. auditing, taxation, etc.)
Explanation of the 'The 150-hour Rule' and how to meet the requirement
Advice and tips we've compiled over the years