---
Introduction: How to Become a CPA
---
Want to know how to become a CPA? If you are looking to become a Certified Public Accountant, you've come to the right place. In this article, we will outline the steps you need to take to achieve your goal. We will also discuss the benefits of becoming a CPA and provide some helpful resources. Let's get started!
Earning your CPA designation is a big accomplishment. Not only does it show that you have the skills and knowledge that sets you apart from the average accountant, but it also opens up new doors of opportunity and career advancement.
---
10 Easy Steps to Becoming a Certified Public Accountant
---
If you're ready to pursue becoming a CPA, here's what you need to do:
1. Get a degree from an accredited college or university. While you can earn a degree in any field, you'll need to complete specific accounting courses to sit for the CPA exam. In most jurisdictions, the accounting requirements are essentially the equivalent of a bachelor's degree in accounting, so if you have a degree in another field, don't sweat it, the education requirements are basically the same as if you had an accounting degree. So, if you're wondering how to become a CPA without a degree in accounting, we're here to tell you that it's not a huge deal. If you're stuck, call your state board of accountancy and ask them how to become a CPA in their state given your unique situation.
2. Acquire 150 hours of college credit that meet your state board of accountancy's CPA exam requirements.
3. Apply to take the CPA Exam with NASBA. This process can take some time, so it's important to start it as soon as possible. You also want to wait until NASBA has approved you to take the CPA Exam and issued you a Notice To Schedule (NTS) before you purchase CPA Study Materials. Many CPA Review courses don't allow returns, so if you spend money on review materials and then find out you're still a year out from taking the CPA Exam, that will be a problem.
4. Purchase a CPA Review Course. You have your NTS in hand, and now you're ready to buy a CPA study course and get down to business.
5. Study (we thought we'd mention it since some people forget this step).
6. Pass the Uniform CPA Examination. Unfortunately, it's not as easy as saying, "go pass the CPA Exam." The 75% of CPA candidates who don't pass the first time would likely agree with us. Be sure to download our CPA study guide below for tips on studying (and passing).
7. Meet the CPA licensed experience requirements. In most states, you'll need to have at least two years of public accounting experience before you can be licensed.
8. Pass your state's CPA ethics exam requirement. The vast majority of jurisdictions require CPA candidates to pass an ethics exam prior to receiving a CPA certificate. Some jurisdictions treat a CPA license and certificate as one and the same, whereas others send successful CPA candidates a certificate upon passing the CPA Exam and ethics exam, and then a CPA license later once experience requirements are met.
9. Apply for a CPA license. Once you've met all the requirements, you can apply for a CPA license through your state's board of accountancy. Remember: the CPA Exam is a uniform exam (everyone takes the same exam, give or take 10,000 questions), but the eligibility requirements to take the CPA Exam and become licensed are on a state-by-state basis.
10. Celebrate by buying something nice for yourself or your family. You've spent thousands on the CPA Exam, so a $500-$1,000 getaway to celebrate with loved ones isn't out of line.
---
Becoming a CPA: Frequently Asked Questions
---
Is it hard becoming a CPA?
How hard is it to become a CPA? The process can be particularly grueling, especially if you're balancing working full time and going to night school to get your 150 hours. THEN, you have the CPA Exam.
Is the CPA Exam hard? Terribly.
Is the CPA Exam worth it? Absolutely.
Becoming a CPA is a highly rewarding pursuit that will pay dividends for the rest of your life (literally, as you can do work as a CPA long after you've "retired.")
Do CPAs make good money?
Yes, CPAs make good money. The monetary value that a CPA designation brings is both quantitative and qualitative. The average CPA makes significantly more money than their accounting peers who are just "accountants." Investopedia has more information on this. The real value, however, lies in the upward career mobility that a CPA can bring you. If you work in industry, there will be internal job postings that you won't be qualified for without your CPA, or at a minimum, the posting will say "CPA preferred." If two job candidates are equal, but one has passed the CPA Exam, which one do you think has the edge? You guessed it: The CPA.
How do I get started as a CPA?
If you want to start your own CPA firm, then the best experience you can get is to work for a small firm for 2-5 years and get paid while you learn. Bookkeeping, payroll, quarterly taxes, tax season, auditing, etc – you will learn how to do all of this for your own firm. That said, always use integrity and never steal a client away from your old place of work. The accounting community is too small to burn bridges (plus, it's just not ethical).
Have more questions about how to become a CPA? Ask Us.
---
Next Step: Read '88 Things You Need To Know For The CPA Exam'
---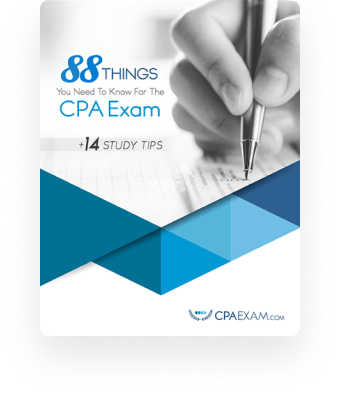 What's Inside?
The 88 Things You Need To Know For The CPA Exam + 14 Study Tips.
Includes info on:
How to prepare for the exam.
How and What to study.
How to choose the right CPA Review Course.
Bonus of 14 Study Tips we've seen used time and time again with positive results.